February 11th
10pm – 6am
33 1/3 Commercial Rd
London
****STOP PRESS****
We still have tickets available on the Door! Come down early to get in, and get dressed up for a discount on the door price!
****STOP PRESS****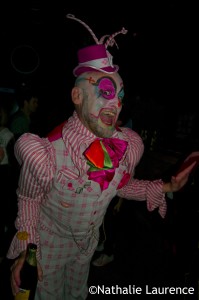 Valentine's Day? Shmalentines Day! Forget about booking overpriced tables in fake Italian restaurants and buying wilted roses, and come down to Rumpus for an early dose of all out Carnival mayhem!
The line up really is bursting at the seams: our main room is packed with Gentleman Rhymers, Gypstep bands, Cabaret shows, kick ass DJs and the Ball Pool; Pandemonium Circus are bringing their trademark Ragga Dubstep mashup hoedown; the Clapton Metropole will be taking things to whole new levels of debauchery with their 1920's speakeasy featuring live bands, Meno.tv are curating another unmiss-able instalment of the Rumpus Cinema, and our friends The Cakewalk Sessions are bringing the some old time jazz and blues to ensure the Chill Out room is awash in soothing aural goodness for your ears and your souls.
Get yourself dressed up, put on a mask, and come join us in being the first to celebrate Carnival in 2011!!!
Tickets are going fast, so get yours now!
And remember to invite yer mates on Facebook!
Full Line up:
Room 1 – Proper Dancing
Hosted by Professor Elemental, politely spitting the finest Chap-Hop & Teacore lyrics at your face
Molotov Jukebox – The masters of GypsStep
Calypso Inferno StageShow
Chris Tofu – The Electroswing Club Guru
Drusus Germanicus – Lord of Beats, Master of Bass
Dr Malaka – exuding Electroswing out of one hand, oozing BalkanBeats out of theother
And of course, everyone's favourite, the Ball Pool!
Room 2 – Twisted Beats and Twisted Acts
Wander into the Pandemonium Circus' tropical grime den for a rave ragga mashup hoe down…
Sasquatch (Senseless Records) – dubstep /cumbia/kuduro interbass mash down
Sarantis (Senseless Records) – live dubstep grime PA from Leeds
My Bad Sister (Twisted Sisters)- live pa from the tropical gangstar twins,
DJ Tutti Frutti (Twisted Sisters) – Gypsy bassline techno straight out of Deptford
Bang Crosby (Pandemonium Circus) reverend of sleaze spins a ghetto gypsy bass drenched mash up
Trozminster (Kebele Sound) – afrobeatcumbiastepghettobass from Bristol

Room 3 – The Clapton Metropole Speakeasy
The Debauched, Debonair Degenerates from the Clapton Metropole will be serving up the finest handmade cocktails in the art gallery, along to a live soundtrack.
The Poet's Corner Trio – Cellos & Viola thundering down from the heavens
RoadKill Cafe –Ballads from Bastards
The Special Guests – Speed-folk and prog-baroque, in a gypsy-punk stylee
The Fickle Finger of Fate – Old-Time fortune tellers, telling Old-Time Fortunes
Hairy Poppins' Pop Up Hair Salon – Transforming shaggy manes into styled cowlicks and unkempt whiskers into the tidiest of moustaches
Featuring art by:
Anne "Blondie" Bergard
Kate Lomax
Iain MacArthur
Simon Fowler
Gemma Fox
Room 4 – Vintage Visuals & Surreal Sights
The Rumpus Cinema brings you medicine for your eyes, freshly picked, pickled and prepared by our friends at Meno.tv.
Room 5 – Chill Out

Sit down in the Cakewalk Basement and let the old time jazz, ragtime and blues chase away the winter chills with a mulled cider, a hot toddy and a selection of the finest tunes to soothe your soul.