BinglyBongly presents Native Horizon
at the inSpiral Lounge, Camden Lock:
BinglyBongly will be bouncing along to the
InSpiral Lounge
, in association with the
WorldShift 2012 Alliance
, for a night of eclectic beats and funky treats, informative ideas and a transformational message.
In a collaborative effort, BinglyBongly brings its distinctive brand of uplifting, positive party to the InSpiral Lounge - featuring a live show from Native Horizon, and music from BinglyBongly DJs.

The other half of the team, WorldShift 2012 Alliance, is a new global movement dedicated to co-creating the foundations of a peaceful, just and sustainable world by the end of 2012. With presentations and visual delectations throughout the night, there's plenty in store.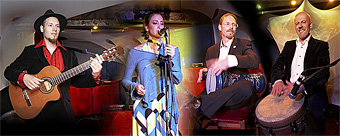 Native Horizon is Herbert Newbert's world electro band, taking in Mediterranean, Arabic and African vibes and mixing them all together in his rather sizeable music-pot. The live show features flamenco guitar, enchanting vocal melodies from Noa, lively percussion from Jon and Sean, and a whole bunch of electronic stuff.
So, join us at the inSpiral Lounge to boogie to some of the finest music, find out more about a number of WorldShift events, activities, social enterprise spin-offs and what you can do to help.
And even though you'll probably want to dance all night, you can sample the legendary InSpiral cuisine when you take a breather (but don't eat and dance at the same time, you'll give yourself indigestion).
Clearly a match made in, well, right here in London actually!

See you there :-)
great venue
superb music :)
bar serving wholesome food & drinks
outside smoking area
lineup

Native Horizon * live band *
DJs
Sean Spindrift
Herbert Newbert
Jon Bongly
Pete Ardron


Video projections from Worldshift 2012.
The
binglybongly/Worldshift 2012
evening
Saturday 12th December
8pm till 2am
The inSpiral Lounge
250 Camden High Street
London NW1 8QS
here's a
map
Tube:
Camden Town
Car Parking
- Some parking is available on nearby streets.
---
©
productions limited 2001-2008
Registered in England and Wales. No. 04270573.
Registered office: downstairs on the left, 55 Rivington Street
London EC2A 3QQ England
site designed & built by